Tis the season for holiday baking, decorating, gift giving, gift exchanges and visiting with friends and family from afar.  It is often said to be "…the most wonderful time of the year." 
As I schedule time for shopping, baking, and cleaning, I have been thinking about how we brand ourselves or our home for the holidays.  We are careful to make sure that we project the right image to friends and family who visit. Decorated, but not over done; clean and comfortable, not elegant or untouchable.   At our house we definitely go for comfort.  We want our guests to feel like they belong.  It should feel like home.  They can put their f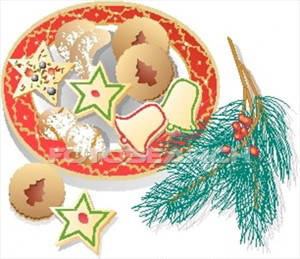 eet up, play games, eat and drink.  Food is everywhere. Cookies will be scattered around the house.  If guests get the urge, they will always be able to snack.  Comfort is the Brokaw Brand.  
Now how does that relate to the brands we manage?  Well, think about it; you clean, decorate and prepare your home so guests interact with you in a way that feels right for them.  Don't we do the same thing with our company/product brands?  We want our target audience to interact with us in way that feels good, in a way that will make them want to interact with us again and again.  We make sure that our logos, signage, advertising messages, and store appearances are projecting the image that our customers want.  It must all sing the same song.   Just like at home, we wouldn't want the entry way  to project an image of elegance and prestige if the rest of the house is not going to live up to that expectation.  Not to worry in the Brokaw house, elegance is not part our brand.  LOL.
So, as we close out this year and prepare our brands for 2011, think about your brand like you would your home.  Does your entry way welcome guests with the same brand experience that they will get when they are in your kitchen or family room? Do your business cards, Web site, and brochures, advertising messages, social media strategies and building signage all look like they belong together?  Are you inviting your target audience to experience your brand?   It may be more important than ever, as our economy rebounds, for marketers to make sure that at every touch point your messages are consistent and building relationships.
While you are decorating, baking and cleaning your home this season, think about your brand.  What image are you projecting to family and friends this Holiday season?
I better get busy.  Until next time…
Karen